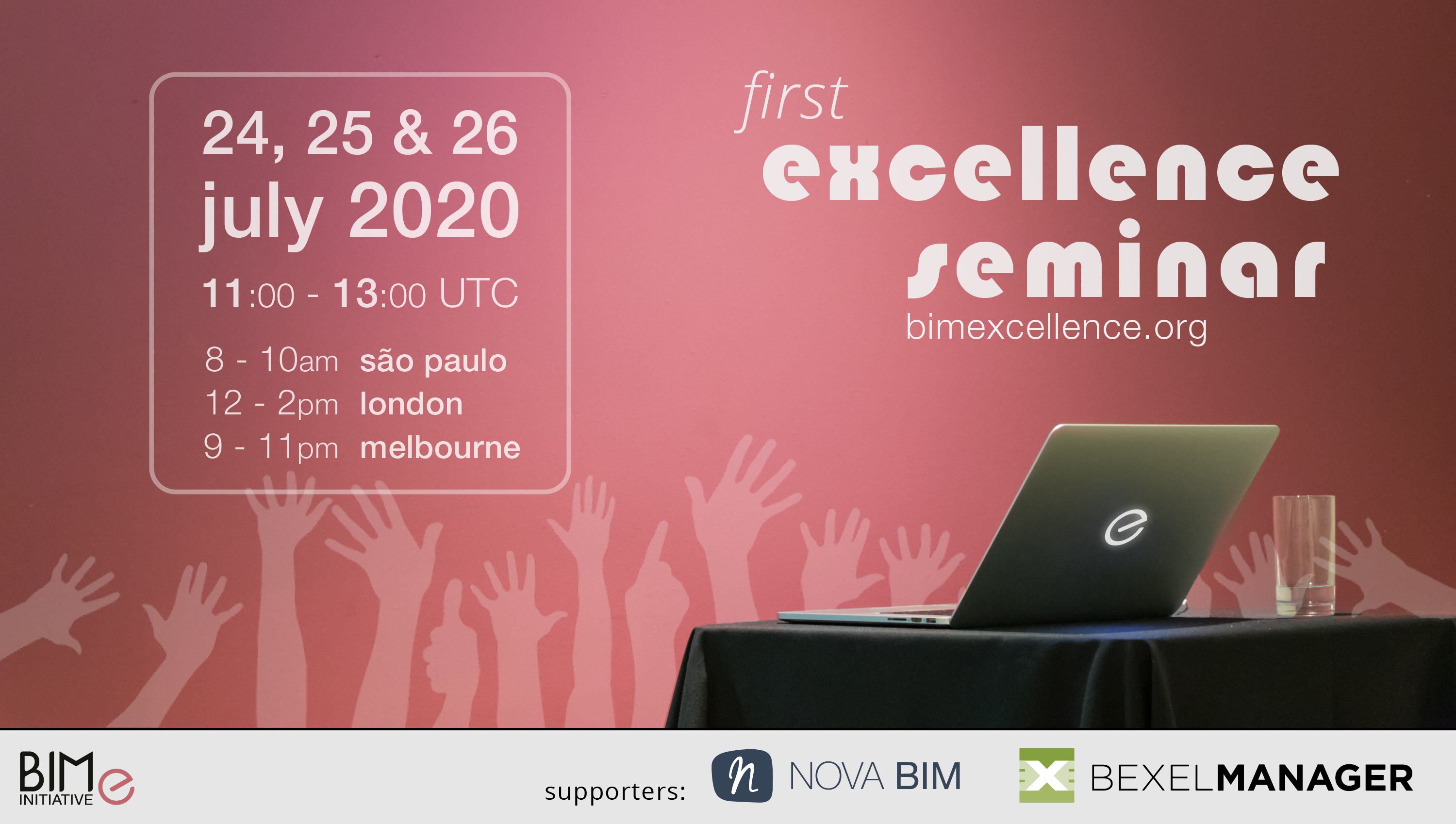 1st Excellence Seminar
We are pleased to invite you to our 1st Excellence Seminar on July 24, 25 and 26 at 11:00-13:00 UTC!
In our first public presentation, the Excellence Seminar will introduce the BIMe Initiative Community, the 130+ volunteers from 40+ countries working together to deliver useful resources and open-access tools for all to freely use!
You will learn about our volunteer Built Environment researchers – professors, professionals, and students alike – working on interconnected BIM Excellence projects to encourage process innovation and meaningful digital transformation. You will hear from our supporters and learn more about our ambitious plans to help individuals, organizations, and policymakers across languages, disciplines, and borders.
The 1st Excellence Seminar will be streamed live on the BIMe Initiative YouTube Channel and Facebook page.
Please register and invite others to join us so all can receive updates, reminders, and presentation materials.
We are looking forward to sharing our community's work with you!
Hourly Schedule
Day 1 Friday
11:00

-

11:15

Warm Welcome!

An introduction to the three-day Excellence Seminar by Day 1 Host
11:15

-

11:40

The BIMe Initiative

A brief introduction to our community, principles, projects, and joint volunteer efforts to share knowledge across borders
11:40

-

12:00

Questions and Answers

Answering questions posted publicly
12:00

-

12:10

Supporter's Word

A word from a BIMe Initiative supporter
12:10

-

12:30

Macro Adoption Project

The Macro Adoption Project conducts research and publishes materials that assist policy makers in developing, evaluating and improving their macro BIM adoption strategies. This session will cover what the project team has delivered to date and will provide insights into its strategy to conduct assessments across 50+ countries. The session will clarify how participants are selected and collaboration agreements made with national institutions to deliver international best practices to encourage adoption across borders
12:30

-

12:50

Questions and Answers

Panel + Answering questions posted publicly
12:50

-

13:00

Day 1 Closeout

Closing remarks by the Host
Day 2 Saturday
11:00

-

11:10

Warmer Welcome!

Recap and introduction by Day 2 Host
11:10

-

11:20

Knowledge Organisation and Sharing

This session will explain the inner research dynamics of the BIMe Initiative and how it organises its projects and deliverables. It will also discuss the planned extension of the Initiative's knowledge sharing efforts to reach more students, researchers, and practitioners
11:20

-

11:30

Supporter's Word

A word from a BIMe Initiative supporter
11:30

-

11:35

Competence and Learning

A brief presentation covering the planned efforts to develop and deliver competence-based learning materials for all to freely use
11:35

-

11:55

Questions and Answers

Panel + answering questions posted publicly
11:55

-

12:35

BIM Dictionary Project

BIM Dictionary Project | The BIM Dictionary platform hosts 750+ commonly-used terms and their descriptions in 24+ world languages. This session will clarify how the platform is used by students, practitioners, and policy makers to encourage consistency and improve understanding. The session will also provide insights into how terms are selected, translated and reviewed by knowledgeable peers and explain the efforts to align with International Standards. The session will then discuss the strategy to extend the dictionary into the Built Environment's most reliable knowledgebase for process innovation and digital transformation
12:35

-

12:55

Questions and Answers

Panel + answering questions posted publicly
12:55

-

13:00

Day 2 Closeout

Closing remarks by the Host
Day 3 Sunday
11:00

-

11:10

Warmest Welcome!

Recap and introduction by Day 3 Host
11:10

-

11:20

A Growing Community

A Growing Community |The BIMe Initiative is a community effort. This session will briefly discuss how the future of digital transformation rests on the shoulders of similar Communities of Research and Practice (CoRP). It will also clarify how the BMe Initiative intends to grow by recruiting talented individuals and by working collaboratively with like-minded communities, associations, and specialised organisations which are equally eager to accelerate digital transformation across the built environments
11:20

-

11:30

Supporter's Word

A word from a BIMe Initiative supporter
11:30

-

11:50

Questions and Answers

Panel + answering question posted publicly
11:50

-

12:30

Integrated Information Project

This session will introduce how the BIMe Initiative is developing new concepts, tools, processes, and protocols to improve information flow across assets' lifecycle. The session will cover the first steps towards delivering an open-access Integrated Information Platform. These steps include conducting Research@Scale to deliver 75+ activity flows covering different Model Uses. The session will also discuss the preparations to develop an intuitive online module and a guide to assist practitioners in selecting the software tools they need to improve their digital processes and deliverables
12:30

-

12:50

Questions and Answers

Panel + answering question posted publicly
12:50

-

13:00

Seminar Closeout

Summary and closing remarks by the Host